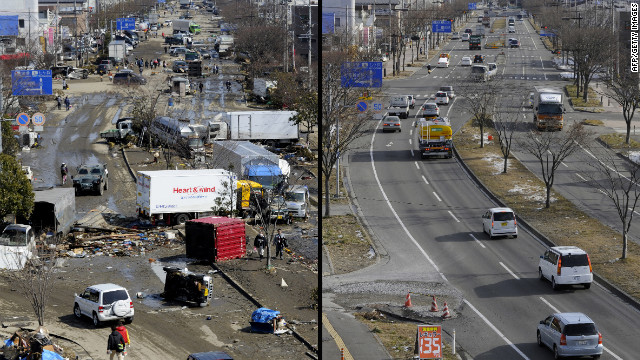 It's the small details in the before-and-after photographs from tsunami-hit Fukushima Prefecture in northeastern Japan that are the most telling. A year later, there's not one power pole, wall-mounted gas meter or roadside curb that hasn't been meticulously attended to.

Almost as if a giant hand cleared the twisted debris, straightened the paving and fixed the bent and broken pipes, what remains in the worst-hit areas are well-manicured expanses of nothingness.

Where industrious fishing towns once stood are empty streetscapes that resemble vast car parks. In some places, just the foundations — also looking swept and groomed — are the only things left to tell the story of the worst post-war catastrophe to hit Japan.
Desigur, lucrurile nu sunt exact la fel ca inainte de dezastru… nici nu au cum si nici nu vor mai fi vreodata. But they once again rose from the ashes (or more like from under the ocean this time), showing that they truly are a nation to admire and learn a lot from.